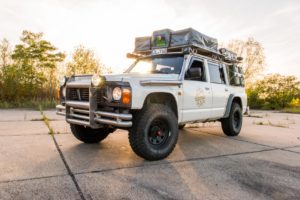 "Backcountry Expeditions"
Backcountry Expeditions is about the organization of adventure trips (i.e. planning, organization and of course their implementation), the construction and conversion as well as the rental of expedition and long-distance travel vehicles, as well as the creation of detailed and authentic product reviews, which should help you with the considered purchase of sensible and high-quality outdoor equipment. In our lexicon you will find further reports, advice and instructions on various topics from the fields of outdoor, vehicle technology and nutrition, and in our extensive photo gallery we are happy to share our worldwide travel experiences with you. We are versatile, and yet very special.
40-minute motto film in which Dominik explains his philosophy and thus the concept of backcountry expeditions with all its topics in detail (language German, subtitles English) –>
This page is currently under construction and only exists in its basic structure for the time being. We are currently working on the translation of our German main page into English, and ask for a bit of patience until completion, Thank you (as of May 2021).